Looking for a model for practice shoot in Melbourne. I was a regular art nude photographer for awhile but due to personal reasons (my son was very ill), I haven't shot any photos in a number of years and I am really rusty. I want to move into the more erotic, sexual style of photography but not sure where to begin. So the model will have to be patient and help co-direct the shoot while I find my feet and just shoot and try different things. I'm Sydney based but I am coming to Melbourne for the first weekend in July and this shoot would happen Saturday (July 5th) afternoon or evening in Chadstone, depending on model availability
The photos from this shoot will be for practice only but if the model and I agree I may be able to use some for my portfolio work. The model will get a full set of the raw images at the end of the shoot to do with as she pleases.
This is a paid gig at $100 per hour (Two hours minimum), which I know is low but I don't plan to make money on the shots so it is just to compensate the model for her time.
What I had in mind was a kind of decadent look in a cheap motel (I happen to be staying in one while in Melbourne so it is convenient) of a woman getting in touch with her personal sexuality. This shoot will be explicit but hopefully tasteful. Depending on the model's limits we may include toys (which would be purchased for the shoot). One of the things I am experimenting with is remote triggered Speedlites. I will have two Speedlites and a reflector and that is all that will be used to light the shoot. This is an experiment as I have never shot this style before and I want to experiment. There will be no makeup or stylist at the shoot so if you need makeup you will have to do it yourself, I want a very natural raw look.
As it is a fantasy shoot I am going to be quite picky about the model, I know this sounds sexist and shallow but it is what it is, and I apologise if I offend, that is not my intention. Age is not important but I am looking for a model with a bust. I will need to see samples of your work or your portfolio to make a final decision.
I want to make one thing very clear, as from the above sections I understand how sleazy this must sound. This is not for sex. I am happily married and I am not looking to "pick up" or "get lucky". This is a photoshoot.
If you are at all interested in this experiment, you can see my entire online portfolio at http://dgmpictures.com and if you are still interested contact me at david(at)dgmpictures.com or text me on 0474 500 452 – don't bother calling that number as this phone lives in my camera bag and isn't checked more than once a day unless on a shoot.
The latest episodes of podcasts Film Actually and Geek Actually are now up at geekactually.com
A few days of solid uploading and the site is almost ready. I just need to tag all the images and write a few more descriptions and the site will be ready to launch into the world.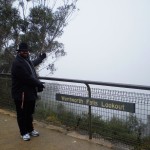 I love this picture! My wife and I travelled to the Blue Mountains for our anniversary and I thought I would get some shooting in while I was there. We decided that the Wentworth Falls look out would be fantastic but on the day we went to see it a massive fog rolled in and this was the view. Oh well, best laid plans.
I did get some really moody and atmospheric shots with the fog, go check out the nature section of the portfolio to see these.
Well here we go, the first batch of photos have just been uploaded. This is going to be a long process.