The latest episodes of podcasts Film Actually and Geek Actually are now up at geekactually.com
A few days of solid uploading and the site is almost ready. I just need to tag all the images and write a few more descriptions and the site will be ready to launch into the world.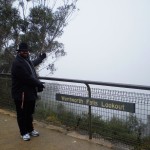 I love this picture! My wife and I travelled to the Blue Mountains for our anniversary and I thought I would get some shooting in while I was there. We decided that the Wentworth Falls look out would be fantastic but on the day we went to see it a massive fog rolled in and this was the view. Oh well, best laid plans.
I did get some really moody and atmospheric shots with the fog, go check out the nature section of the portfolio to see these.
Well here we go, the first batch of photos have just been uploaded. This is going to be a long process.